Who is Alchemist Farm?
We are a small family farm team headed up by Franchesca & Ryan Duval along with our two children in Northern California.  We are pioneers of humane breeding and hatching, no male chicks are killed on our farm as they are at large scale hatcheries and all of our breeding groups are free to roam on their separate pastures. We are extremely unique in the chicken breeding world!
In maintaining our commitment to a more sustainable planet the farm and hatchery now run on 100% solar power from an array we have installed in our pastures. Every decision we make from the grain we feed our birds to the way we rotate them on pasture has our carbon footprint in mind.
All of our shipments of chicks and eggs are now 100% plastic free and come with instructions on how to compost or creatively break down the packaging to keep it out of the landfill. As of January 2020 the farm and hatchery is 100% zero waste and we love educating others on how they can make similar changes to reduce the overall waste we all generate. Want to learn more? Click here to read about how you can make similar changes in your life. 
We specialize in beautiful heritage and rare poultry. We also have side breeding projects of unique crosses we create to have climate resilience and unique egg colors to add depth to your daily egg collecting baskets. We offer fertile eggs for hatching as well as chicks of most all of our breeds. We breed for temperament to better each generation of our breeding groups. If a rooster gives us the side eye or makes us uncomfortable while we are in the pasture we pull him from our breeding program immediately.
Why do we do what we do? We believe that through every fun colored egg laid and every unique looking chicken hatched we spark the imagination of adults and children alike. Colored eggs help bring up questions about where our food comes from and the quality of care it has received along the way.
We are committed to education of our future generations of farmers and offer free hatching eggs to classrooms all over the United States. We are also committed to feeding our youth of America and starting in 2019 a portion of our proceeds went to End 68 Hours of Hunger, a fantastic organization that we believe deeply in.
In the summer of 2019 we joined the 1% for the Planet family and 1% of our proceeds going forward into 2020 and beyond will go to support the Children's Eternal Rainforest, Costa Rica's largest private reserve of protected rainforest that was started by elementary school children. We have selected this special project to support because they have a firm and balanced grasp on what it means to protect the rainforest and its inhabitants while also supporting the local human population through jobs and education. The forests of our planet are the lungs of our earth and they are in need of protecting and expansion if we are going to have a healthy planet for future generations. Every purchase you make through us goes to support their worthy project. If you feel inspired by what they are up to please donate or visit their site in person – they are all about education of humans of all ages!
As the farm slowly and sustainably expands our offerings we have welcomed some new folks onto the farm team we would love for you to meet! Everyone has a specialty who works at the farm.
Meet Franchesca, in addition to being the head chicken wrangler, she is the one who does all of our customer service. If you write to us with a question or place an order, she is helping you out. Franchesca also teaches our beginner & advanced chicken keeping online classes. She manages the holistic health of our flocks and organizes the shipments.
Meet Ryan! Everyday there is something on the farm that needs fixing, tinkering and improving. Ryan is always looking for ways to streamline our infrastructure and make things run smooth as silk. He teaches the second half of our quail keeping workshop which is a quail processing demo.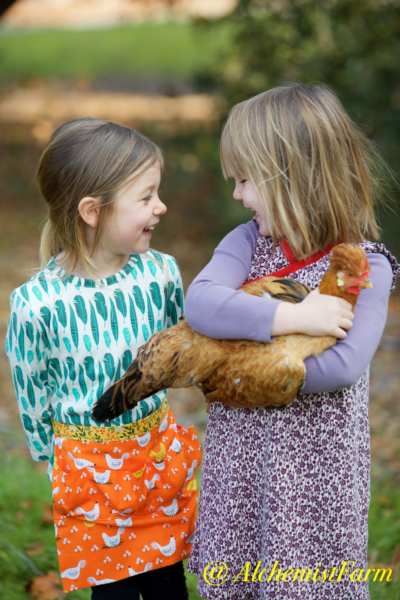 Meet the two little farm hands! These two each have their own strengths when it comes to working with poultry. One favors collecting the eggs (in her little apron no less!) and the other is an expert chicken catcher should a hen need to be wrangled for any reason.
Meet our littlest farm hand. He is learning all of the skills necessary to carefully handle fragile eggs and baby chicks. He is alongside Franchesca everyday and loves pulling his wagon, sorting the eggs for eating and hatching and feeding the chickens handfuls of grain.
Last but never least, our dear Jorick. This handsome fellow keeps predators away day and night – protecting our many flocks that are separated over our acreage. He is also our greeter for the front gate, if you come to pickup chicks or hatching eggs from the farm directly you will certainly be seeing his smiling face.
About Us